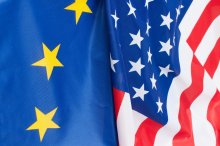 After almost 17 years of trade disputes stemmed from the large civil aircraft sector, EU and US found an agreement on the Airbus-Boeing litigation on June 15th.
Started in 2004, the longest trade dispute in the history of the WTO saw US and EU filing complaints against each other for illegal subsides to their large civil aircraft manufacturers Airbus (EU) and Boeing (USA).
This has started a series of retaliatory tariffs on each other's exports.
The USA, in October 2019, imposed $ 7.5 billion in duties on several EU products, including EU Geographical Indications. The EU, in November 2020, imposed punitive tariffs up to $ 4 bn on US goods.  As a result, the trade between the two sides has been affected for a value of 11.5 billion dollars.
The path for cooperation opened on 5 March 2021, when the EU and US agreed to suspend for a four-month period all retaliatory tariffs on each other's exports.
On 15 June, the two parties signed a five-year agreement committing to suspend the additional tariffs pending a long-term agreement. The aim is to definitively close the issue that has damaged the exports of several sectors of the economy and to create a collaborative platform to avoid future litigation and preserve a level playing field between the two aircraft manufacturers.
More information: https://ec.europa.eu/commission/presscorner/detail/en/IP_21_3001