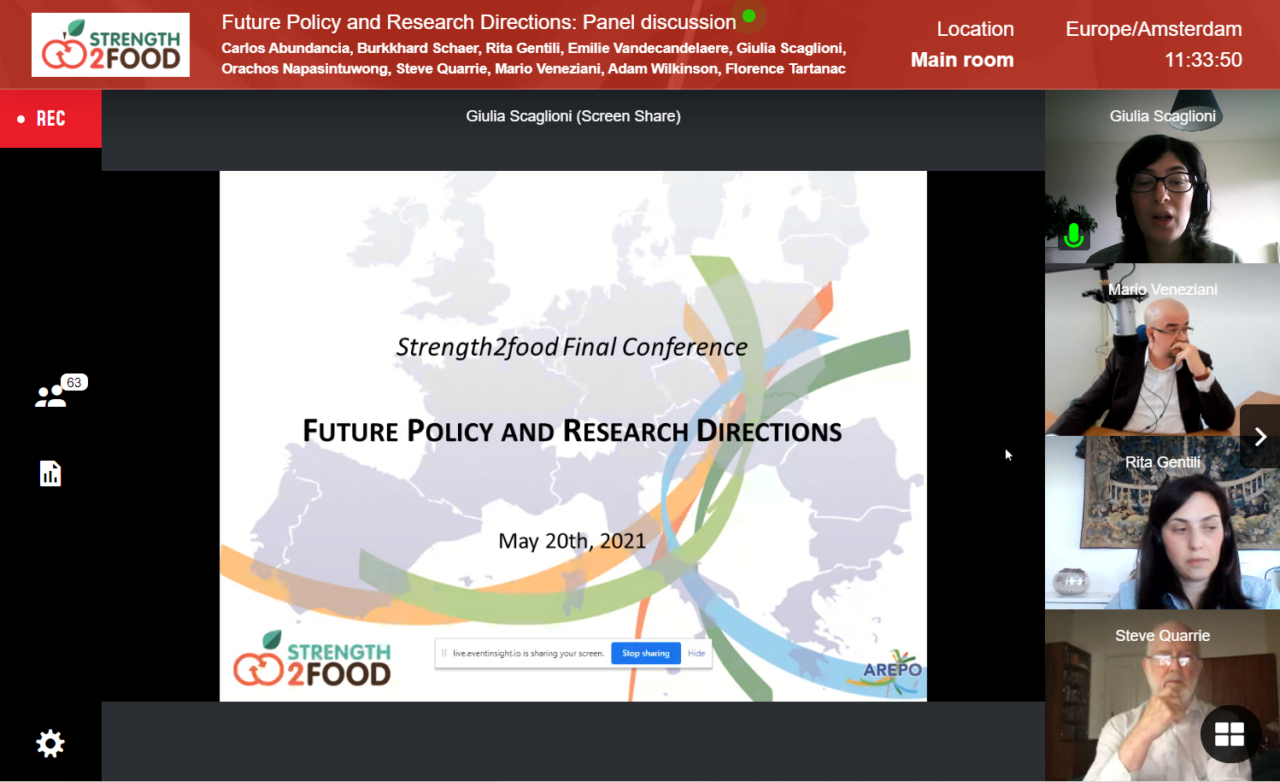 On May 20th, 2021, we said goodbye to Strength2Food, a 5-year EU-funded project that started in March 2016.
AREPO has been involved in the project as member of the Stakeholder Advisory Board, an external high-level body of experts from different fields, whose role was to contribute to the discussion and help guide the strategic direction of the project.
The final conference was the occasion to present the project's key results and impacts to date, sharing them with hundreds of participants among policy makers, practitioners and researchers, interested in finding out more on how to improve current policies and practices related to EU Food Quality Schemes, Public Sector Food Procurement and Short Food Supply Chains.
The online experience, planned and run by the European Food Information Council (EUFIC), offered to participants sessions around thematic areas, methodological insights and H2020 knowledge-exchange, as well as a networking platform and a digital exhibition space showcasing the pilot actions undertaken and the multiple tools and resources developed for different agri-food stakeholders.
Expertly managed and coordinated by the Newcastle University (UNEW), over the last 5 years, Strength2Food gathered findings and recommendations on EU Food Quality Schemes, Public Sector Food Procurement and Short Food Supply Chains, providing solid and evidence-based arguments that enriched and oriented AREPO's activity at EU level.
Particularly, the research led by the Università Degli Studi Di Parma (UNIPR) onEU Quality Schemes, assessing their social, environmental and economic sustainability for food chains and rural territories, has been pivotal in the work AREPO has done all along the process of revision of EU Quality Policy, aiming at strengthening EU GIs.
As a result, during the final online conference AREPO had the pleasure to lead, together with FAO, a panel discussion on Future Policy and Research Directions, shedding light on the strategic priorities and future path for the research and policy agenda. Particularly, emphasis was placed on:
Empowering producer groups;
Supporting research and innovation, education and trainings on Geographical Indications;
Improving GIs protection and enforcement in Member States;
Simplification and harmonisation of EU Quality policy;
Improving consumers' recognition and understanding of GIs.
In addition, the importance of the project's outcome has been further proved by the European Commission Evaluation study on geographical indications and traditional specialities guaranteed protected in the EU, which drew on results from Strength2Food and its book on Sustainability of Food Quality Schemes.
This and other publications, including the Strategic Guide on Sustainable Food Quality Schemes, are available on the project's website, together with other useful information and tools.
As AREPO, we would like to take this opportunity to thank all the members of the consortium that made Strength2Food such a successful and valuable project. Congratulations on the great work carried out, looking forward to further collaborating with you all in the future!